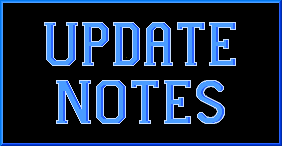 2016 Update Notes

— From newest to oldest —
Older Update Notes, for MACJR'S Mini-Verse², going all the way back to June 15, 1997, are still being restored but will be posted here soon.
Michael A. Crane, Jr.
Artist/Webmaster/Writer

Although I had opened a newer version of the MACJR'S Mini-Verse² Forums several days ago, I just now got around to updating the Forum link on this page to point to the new forum pages. Oops. My Bad.
Over the next few days, I plan to do some work on this site, before I get back to work over at macjr.com.
Michael A. Crane, Jr.
Artist/Webmaster/Writer